NCC Network Control Center

Optimizing operation and maintenance is the key to maximizing return on your network investment as the subscriber base grows. Simple yet powerful, the Mobitex Network Control Center (NCC) enables you to efficiently manage all aspects of the Mobitex network from a single location.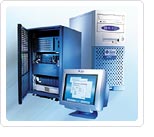 In addition, the Mobitex NCC provides optional interfaces for tight integration with your billing and customer care systems. The Mobitex NCC handles all operation and management tasks, including network configuration, subscriber administration and billing information. All individual base stations and routers can be reconfigured from this central site, which minimizes the need for costly and time-consuming site visits.